20 March 2019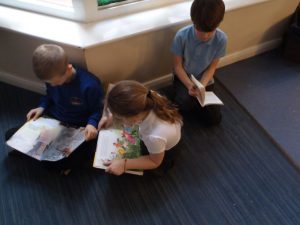 We have had a very enjoyable term engaging in everything Reading related.
Thank you for all of your support with the sponsored read challenge.
The children have done an amazing job and exceeded many of their class targets. We have enjoyed visiting our local library and Waterstones store and had the chance to get some new books on our visit from the book bus last week.
The 'flipping amazing' book sale was also a big success with lots of children and adults leaving with some lovely new books to read.
The children are looking forward to deciding with their teachers on which new quality books they would like to purchase with all of the funds raised, our total to date is: £2033.29.
Drop Everything And Read has also been a huge hit across school with many children saying that they look forward to this designated reading time each day.
We plan to continue with this initiative due to its success.
Thank you again for your continued support and keep up the great reading! We were amazed by some of the creative costumes which appeared on World Book Day – everyone looked amazing!