21 April 2020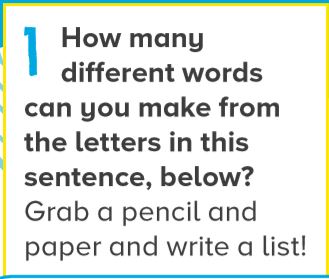 Hi Everyone,
We've really enjoyed reading Pobble's '25 non-screen activities' list and wanted to take part. So for number 1 this week, how many words can you make out of the sentence below? We will share the winner next week. Good luck!
'Learning from home is fun'
I can already think of - more, foam...
Posted by Mr Painter
Category: Year 4
---
Tyler G
29 April 2020
I think my best 15 words are

Roman
Ego
Manger
Generous
Mason
Resign
Align
Lemur
Moose
Salmon
Germ
Rhino
Groin
Gnome
Figurine
Lucie H
1 May 2020
Fingers
Fearing
Engine
Hearing
Fuming
Flaming
Measuring
Shearing
Gleaming
Flamingo
Groaning
Roaming
Fragile
Foaming
Earning
Roaring
Rishi S
15 May 2020
Earning
Roman
Fear
Foaming
Housing
Running
Morning
Gear
Roaring
Earring
Flushing
Sign
Sigh
Meaning
Mine
Lime
Lemon
Linen
Pies
Leave a Reply