30 September 2018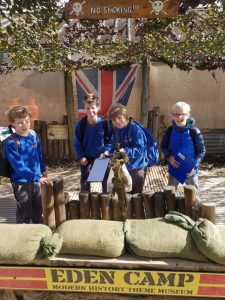 This week we visited Eden Camp. The children were immersed in the real WW2.
We had tears of fear during the Blitz, tears of laughter (or maybe water) during the entertainment and beads of sweat during the physical training!
If this was your house, how do you think you would feel?
Imagine what it would have felt like to have to spend evening after evening huddled together in a shelter such as this….
When we arrived back in school we worked in pairs to produce some leaflets to advertise Eden Camp that rival the real thing! If you get chance, pop in and have a read.
WELL DONE!
Mr H and Mr W
Posted by anna
Category: Year 6